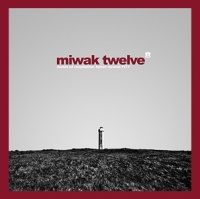 По случаю своей 12 летней творческой деятельности немецкий лейбл Hymen подготовил и выпустил двойную компиляцию
Miwak Twelve
, состоящую из 33 композиций от музыкантов, как издававшихся на лейбле, так и близких дружественных коллективов. Компиляция выпущена в коллекционном шестипанельном конверте, оформленном оригинальными минималистичными фотографиями с информацией о локации всех участников проекта. Можно сказать сразу, что после всех предыдущих изданных компиляций лейбл Hymen успешно избежал самоповторений и создал новую звуковую палитру. Здесь слушателя ожидает гораздо больше мелодий, разнообразных смен настроений, но самое главное это то, как все звучит. Такого саунда с Hymen еще никто не слышал. С самого первого же, невероятно красивого и погружающего трека The_Empath "At the Heart of It All" можно сильно удивиться, а может даже и не поверить, что это играет музыка с немецкого лейбла. Слишком выверенный, просчитанный, сбалансированный звук, исчезла брутальность, грязность звучания и нарочитый примитивизм в передаче информации. Акцент действительно поставлен на мелодичность, аранжировку и легкость самой музыки. Но то, что это действительно другая сторона Hymen, можно легко убедиться на "Frosd" от Slam52 и "Concevoir" от Millipede - здесь будет предостаточно ритмических техноидных структур уже встречавшихся на компиляции Masonic. Композиция от Somatic Responses "Takayama" сильно удивила, такое ощущение, что играет веселый клубный трек в стиле электро, с уходящей вдаль эмбиентной концовкой. Дальше настроение будет управляться создателями компиляции по хитрой системе. Идет подряд два темных трека: "The Old Growth" от Defrag и "The Source" от Tonikom. Оба трека явно на одной волне. Их сменяет очень красивая дополняющая друг друга пара от Nebulo и Deru: "Sunurb" и "Between You and Me". Вот этот момент на компиляции очень привлекателен и аутентичен современному звучанию лейбла.
Следующее крупное связующее звено начинается треками от Black Lung, Lowfish, HPC, Access to Arasaka - "The Hostmen of Tyne", "Wreckage", "Phoenix", "xt10.20zp9" соответственно и заканчивается "Awake" Architect'а. Не могу сказать, что услышал здесь для себя что-то новое, скорее просто почувствовал эмоциональное притяжение металлизированных корней музыки. Следующий великолепный фрагмент компиляции "Vector Step" проекта Dryft является очень чувствительной и яркой цветной зарисовкой из сна. Завершает же первую сторону компиляции
Miwak Twelve
Hecq со своим треком "Sleep Through the Day". Это вечерняя добрая музыка, идеальным образом подходящая для окончания первой стороны.
Вторая сторона открывается с безумно красивой композиции от Combustion - "Building the House of Vanity", потрясающий голос принадлежит Caro Roth, мне неизвестен этот проект и незнакома вокалистка, но то, что сделали эти ребята - это самый настоящий неподдельный жемчуг.
Ginormous, Snog и Crunch здесь предоставили убедительные композиции, укрепив свои позиции серьезных музыкантов на электронной сцене. Композиция от Keef Baker "Sacrifice" - это еще одна яркая находка на компиляции. Может быть, это один из лучших треков с двойного релиза, может быть, это одна из лучших композиций музыканта. Она начинается с растекающихся клавишных партий и буквально через мгновенье сносит крышу любому, кто ее услышит. Кажется, что мир вокруг замирает и становится отчетливо слышно все, что живет внутри нас. Эмоции и чувства здесь бьют действительно через край, а музыка превращается в стремительный несущийся водопад звука.
Еще несколько важных моментов. Компиляция состоит из широкого спектра стилей, их здесь минимум десять или больше - idm, electro, dnb, ambient, dubstep, easy, breakcore, hip-hop и т.д. Именно из-за этого многообразия все звучит очень легко и свободно. По поводу открытий, новых имен и находок - всего этого здесь хватает в полном комплекте. Причем музыка молодых музыкантов ни чуть не хуже, а иногда даже интересней, чем музыка хедлайнеров. Перечислять все наиболее интересные проекты не имеет смысла - лучше прослушать и самим выбрать тех, кто зацепил и заинтересовал.
Miwak Twelve
- серьезный и достойный подарок лейбла для своих поклонников, в коллекции этот выпуск точно не будет лишним.
-
Hymen Records