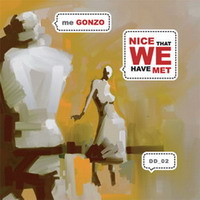 На латвийском сетевом лейбле Dirty Deal Netlabel стартовал второй сетевой релиз - мини-альбом-открытка от рижского музыканта и продюсера
Martinez Gonzalez
, успевшего поиграть на разных инструментах в оригинальных музыкальных проектах, выпустить свои композиции на нескольких компиляциях и вот теперь представляющего свою EP -
Nice That We Have Met
.
Название можно перевести как "хорошо, что мы встретились" - в этом можно увидеть и всю основную концепцию этой работы.
Мини-альбом начинается с трека Whales, послужившего здесь как интро. Смешные и оригинальные звучки из мультиков, приземление инопланетян из других галактик - вот с чего все и начинается.
Вторая композиция Andra Dzuba Katrina отсылает своей легкостью и эмоциональностью слушателей к творчеству Ulrich Schnauss. Трек для девушек и о девушках, его стоит послушать с весенним настроением. Через всю композицию пробегает сэмпл телефонного гудка и голосов, можно позвонить - разговор еще не окончен.
Заглавный трек Nice That We Have Met - самый позитив из всех 4 треков, своей задорностью и сбитыми drums продолжающего отстукивать забавные ритмы от Ричарда Ди Джеймса.
Последний трек White Duck - это специальный ремикс от Гонзалеза на композицию своего коллеги Sarkanais, с альбома которого на Dirty Deal и начался выпуск музыки. Оригинальность этого ремикса построена на простом изменении настроения - переход от отстраненного слегка и депрессивного на взрывающийся своими эмоциями мелодичный стиль, свойственный исключительно немногим музыкантам в этом мире.
-
Dirty Deal Netlabel