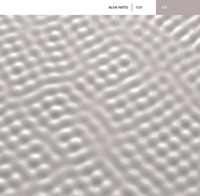 For
- последний на данный момент релиз аудио артиста, музыканта микроэлектронщика
Alva Noto
. Альбом вышел на лейбле LINE лимитированным в 1000 копий тиражом.
Carsten Nicolai (aka Alva Noto), до начала исследований звука, занимался ландшафтным дизайном, его работы в этой области были выставлены в музеях и галереях всего мира. Сейчас же он соединяет визуальные и звуковые текстуры в минималистичные hi-tech инсталляции. Музыка
Alva Noto
- это извивающееся полотно всевозможных кликов, тоновых сигналов и нойза...
Каждый трек данного CD посвящен каким-то людям:
counter - for elfriede jelinek - 2005
transit - for suchan kinoshita - 2005
station remo - for tvpow (contains samples of tvpow) - 2004
gulf night - for peter roehr (contains samples of peter roehr) - 2004
flashforward - for ernie and bert - 2005
jr - for katsushika hokusai - 2000
odradek - for jhonn balance - 2004
wall anfang - for jeff wall (contains samples of jeff wall) - 2000
alva noto.z1 - for john cage (contains samples of ulrich krieger/burkhard schlothauer/reihnhold friedel)- 1999
Музыка при этом едина по своей концепции - это плавные sound текстуры, представляемые как жидкий звуковой поток, извивающийся у вас на глазах, меняющий свой цвет и свою микроструктуру. Здесь нет четких ритмических секций, все подчинено не ритму, а трансформации аморфного звукового потока.
Каждый отдельный звук достаточно прост и незамысловат по свой структуре, однако каждый трек - сложнейшая аудио картина.
-
LINE
-
Alva Noto