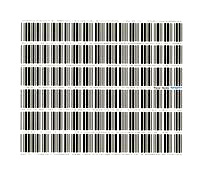 Седьмой сольный альбом японского музыканта
Ryoji Ikeda
, с середины 90-х являющегося одним из лидеров электронной minimal музыки.
Икеда сосредоточил свое внимание на исследованиях физических свойств аудио сигнала и взаимодействиях внутри системы звук-человек. Используя цифровые технологии он развивает специфические микро-методы sound дизайна и композиции звуков. В союзе с Carsten Nicolai (Alva Noto) Риоджи работает в проекте Cyclo, направленном на изучение природы ошибок и сбоев в программном обеспечении и отображении этих процессов в аудио/видео инсталляциях. В 2001 году Риоджи Икеда был награжден премией Golden Nica в категории Digital Music на церемонии Ars Electronica в Линце (Австрия).
Этот CD - часть проекта
datamatics
, созданного для аудиовизуального представления такой невидимой субстанции, как данные, потоки которых уже полностью интегрировались в нашу жизнь и быт. Datamatics включает ряд экспериментов в различных формах, таких как - аудиовизуальные концерты и инсталляции для материализации структур данных, серия тематических передач на радио, CD/DVD релизы.
Dataplex
стартует достаточно простым и не сложным для распознания аудио потоком, представленным композицией микроскопических звуков и шума. Этот поток постепенно усложняется и задействует все большую пропускную способность мозга слушателя. Процесс градации звуковых структур можно проследить и по названиям первых треков: data.index, data.simplex, data.duplex, data.triplex, data.multiplex, data.complex, data.hypercomplex, data.googolplex. Это без сомнения, хорошая подготовка слушателя - загрузка первоначальной информации о дальнейшем содержании работы.
Далее идут уже более сложные вариации на тему - треки становятся продолжительнее, структура звуков сложнее, а к середине диска можно даже услышать некую музыкальность этой исключительно sound дизайн работы. Слушая трек за треком, не можешь отделаться от мысли, что являешься процессором, обрабатывающим колоссальные объемы данных, поступающих посредством слухового аппарата. Хотя, по сути, так оно и есть...
Напоследок предупреждение от издателей: "This CD contains specific waveform data that performs a data-read test for optical drives. The last track will cause some CD players to experience playback errors, with no damage to equipment"
Приятного прослушивания;).
-
Ryoji Ikeda
-
raster-noton