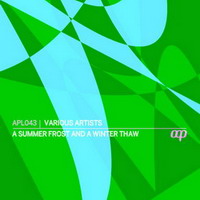 A Summer Frost And A Winter Thaw
- 43-й релиз интернет-лейбла Autoplate (саб-лейбл Thinner). Все 7 представленных здесь треков - это ремиксы и ремейки на композиции музыканта Arrial, которые увидели свет ранее на релизах "This is My Beauty, Show Me Yours" и "For the Love".
Вся запись - фантастическая мозаика из классической испанской гитары, прилично украшенной эффектами, и обволакивающей электроники. Рваные ритмы то заглатывают все звуки, берут их под контроль, то стихают, оставляя власть струнам, рисующим музыкальные картины.
С самого начала слушатель получает сытную порцию романтики и мелодизма, вырвавшуюся из недр микса от Daniel Blomqvist на композицию Tomorrow I Start My Homework. Мелодичные щипки струн будто ведут нас по заросшей тропе в эльфийском лесу, все больше уводя от повседневных забот.
Далее нас ждут два ремикса на Bitch, Where's The Guns.
В то время, как микс Lou Teti Backtalk продолжает линию, заданную первым треком, обхаживая классический саунд гитары с разных сторон, перебалтывая его с космическим ситезом, ремикс от Off The Sky получается своеобразным комбайном из эффектного noise и ambient, где уже так понравившейся нам гитары почти не слышно, однако можно заметить и рояль, и некое подобие вокала, использовавшегося скорее как эффект.
I Predict A Quiet (Fernando Lagreca's Predictable Glitch Mix) - вначале мрачное логическое продолжение третьего трека, экспериментальная электронная обрисовка зацикленных гитарных пассажей, во второй половине окрашивающаяся в более светлые тона воздушным гулом аналогового синтеза и медленным гитарным арпеджио.
Трек, стоящий под номером 5 - картина, изображающая красоту природы мира, ставшего нашим домом на время прослушивания данных записей. Дикий, наполненный жизнью лес, поющие птицы, маленькая прозрачная речка... Красота и романтика под звуки гитары и филд рекординга, ненавязчивый легкий бит...
Blank Holiday Monday (Klotzsch & Sudermann Mix) - плавная и красивая музыкальная история, как путь по нехоженым тропам. Все звуки как бы невзначай, их невозможно поймать, они летают рядом, иногда сталкиваясь друг с другом.
Завершает все это путешествие экспериментальный ремейк от Gultskra Artikler на трек Farewell Again. Весьма мрачное шумовое прощание, не лишенное романтики и звучащей красоты, сделавшей, на время прослушивания музыки, светлее и интереснее нашу жизнь.
-
Autoplate