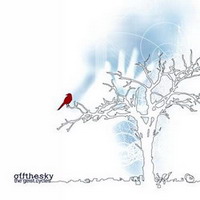 Jason Corder - лидер и идеолог проекта
Off The Sky
, творчество которого является, пожалуй, олицетворением грамотного сочетания экспериментальных концепций и душевной составляющей музыки, той ее части, которую ставят во главу угла музыкальные гурманы, не приемлющие утверждения, что звук - это уже музыка. И
The Geist Cycles
- последний релиз в дискографии проекта, отличное тому подтверждение.
Красивая светлая обложка уже настраивает на необходимый лад - своеобразное сочетание природы в виде дерева с сидящей на нем птицей, и бесконечной недосказанности экспериментальной минимал электроники, оставившей от этого дерева лишь контуры и окрасив бедное животное в красный цвет.
Несмотря на то, что основой всей композиции в
The Geist Cycles
являются перкуссионные звуки и атмосферный нойз, музыка не накладывает на слушателя неподъемного груза экспериментального звука, отнюдь - мелодичность и воздушность отлично уживаются со сложными перкуссионными мозаиками из "подручных" звуков, получая на выходе эдакий красочный пазл, насыщенный мелкими детальками. Атмосферность работы на высоте даже в местах наибольшей активности ударных, звук течет и переливается, плавно подкрашиваясь разными цветами, представая то шипящей, давящей тишиной, то импульсивным сверкающим звуковым представлением.
По-сути ничего нового - атмосферный, мрачноватый филд-рекординг, сложные перкашн конструкции, глитчевые шуршалки и плавные переливы подкладов. Все это уже было услышано нами не раз, в том числе на лейбле Autoplate, где выходили работы
Off The Sky
, но уверен, что в его исполнении подобные темы вызовут только положительные эмоции и приятные ощущения.
-
Off The Sky
-
Databloem