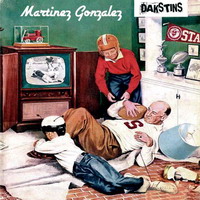 Альбом латвийского музыканта
Martinez Gonzalez
- первый релиз лейбла Lagunamuch community в 2008 году. Музыкант до этого момента выпустил только одну полноценную работу - это мини-альбом Nice that We have Met на латвийском сетевом лейбле Dirty Deal, и можно с уверенностью сказать, что тем, кому он понравился, необходимо будет обратить внимание и на полноценный альбом.
Я бы описал
Dakstins
как поездку на машине с открытым верхом, ее обитатели одеты в гавайские рубашки, пьют коктейли и веселяться, смотря сквозь оранжевые стекла солнечных очков на пролетающие мимо огни городов-курортов. С самого начала диска нас встречает ненавязчивая музыка, полная разноцветных игрушечных мелодий и мимолетной воздушной перкуссии, теплый дабовый бас склеивает все в общий, насыщенный красками звуковой поток, от которого хочется улыбаться и двигаться. Порой мелодии, составленные из звуков рояля, электро-пианино или аналоговых синтезаторов, на фоне быстрых монотонных ритмов и жирной линии баса, напоминают некие сказочные повествования, переливающиеся всеми цветами радуги.
К середине альбом становится более глубоким и вдумчивым, ко всей композиции звуков можно смело добавлять приставку deep и погружаться в свои мысли с головой. Особенно на этом отрезке диска можно выделить трек Padomaa, темный и немного пугающий, будто поездка нашего яркого автомобиля мимо темных руин города-призрака, или Magnetic Waters - глубокий downtempo-номер с красивой, эмоциональной партией струнных.
После немного тревожных и вдумчивых 5-и треков все возвращается на свои места, музыка приобретает легкость и воздушность, заданную в начале, не теряя глубины и пространства. До конца пластинки слушатель будет продолжать свою поездку, расслабляясь и чувствуя скорое приближение теплых дней весны и лета.
-
Lagunamuch records