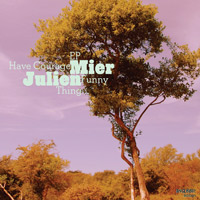 Сейчас, когда за окном зима и снег спрятал крыши домов, погружаться в новый релиз INQB8R - очень большое удовольствие. Это все равно, что найти дверь в лето, открыть ее и спрятаться среди зеленой травы под ярким солнцем. Настолько теплой и очень искренней будет звучать музыка нидерландского музыканта
Julien Mier
, живущего где-то далеко в доме среди дюн на берегу моря.
Have Courage Funny Thing
- маленькая запись, но по своей искренности и исполнению стоит многого.
Сам автор этого произведения
Julien Mier
- молодой и прогрессивный музыкант, учащийся Школы Музыки и Технологий (School of Music and Technology) в Нидерландах и записывающий музыку в разных жанрах, не ограничивающий себя в определенных стилевых рамках. Это можно только приветствовать. Чем шире внутреннее восприятие - тем больше свободы можно унести с собой, спрятать и передать ее в своем творчестве.
Включив первый же трек "Little Footsteps", понимаешь, насколько близко находится музыка по отношению к слушателю, можно буквально протянуть руку и дотронуться до нее, она как дымка наполняет внутренний мир своими нотами и голосами. Эта запись может даже слегка напомнить альбомы Savath & Savalas - проекта Скота Херена (Scott Herren) из Prefuse 73. Но только здесь все еще гораздо теплее и уютней, как например, на второй композиции "The Misty Barn". "Letter To Anna" - одна из самых любимых композиций с этой мини-пластинки, захватывающая, цепляющая, трогающая струны сердца мелодия, idm-звучки, пройти мимо совершенно невозможно. Это все равно, что пройти мимо тепла, света и внутренних переживаний, не заметив этого совершенным образом. Как впрочем, зачастую и бывает.
А завершает альбом трек под названием "Goodbye You Float Well" - очень давно мы не слышали такой тонкой работы над мелодиями, аранжировками и звучанием. Хочется продолжения.
Очень интересный фрагмент текста на сайте лейбла INQB8R:
"As we know, Julien tried to submit this recording to the giant indie publisher "Morr", but they denied it. Cock of the walk, babies, we're happy you've kept the real art free for us!"
. Не проходите мимо, кто знает, может быть, вам придется здесь задержаться надолго - зима еще только начинается!
-
INQB8R