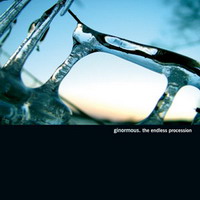 Gridlock распались, но лидер проекта Mike Wells иногда появляется на людях. В этом случае, как мастеринг-инженер проекта
Ginormous
альбома
The Endless Procession
. Сам по себе этот релиз, как и музыка проекта, неожиданно очень оригинальны. Такую музыку можно слушать очень долго, помимо энергичного заряда и драйва она несет в себе всевозможные мелодические решения и богатую аранжировку. Неторопливый альбом, с хорошей качественной подачей и своей темой. Хотелось, чтобы таких релизов было бы больше. Но, по всей видимости, музыкантов и звукоинженеров способных создавать такие шедевры очень и очень мало.
Настроение альбома задается с первой же композиции Begin With The End In Mind - слушателя встречает смесь idm на основе hip-hop с запоминающейся навязчивой мелодией.
Второй трек - Byproducts Of Stress And Boredom. Если вдруг кто не знал, что родина idm музыки - это хип-хоп культура, то теперь вы это знаете. Как бы поразительно это не было, Autechre начинали именно с записи хип-хопа, да и не только они, а и многие другие музыканты тоже. Альбом
The Endless Procession
слушается на одном дыхании, а его саунд отполирован так четко, что можно ловить отражения как на капоте новой автомашины. Безупречная работа с точки зрения звука на все 100 процентов.
На композиции Seek First To Understand проявляется безумное новаторство музыканта. Эмбиент вкупе с искаженными ударными.
Then To Be Understood - теперь понятно почему Майк Вэллс делал мастеринг - очень плотный саунд с тяжелыми ритмами как у Гридлок. Играет абсолютно хитовый трек. На огромной площадке звук должен просто разорвать слушателя, наполнить его новой энергией. Сильно!
A Mountain People Can Always Climb - захватывающая последняя композиция. Оставляет после себя очень приподнятое настроение. Название само по себе очень впечатляющее. Также очень порадовали потухающие полутона в завершении альбома. Появляется желание еще переслушивать и переслушивать этот релиз.
-
Ginormous
-
Hymen records