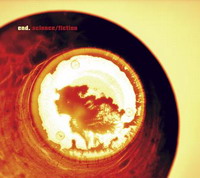 Легендарная idm работа американского музыканта Чарльза Пирса, в свое время вышедшая на Hymen под номером 725. Даже на сегодняшний день этот альбом не потерял своей привлекательности – музыка не устарела, содержание так же актуально, как и прежде, а дизайн очень точно передает настроение.
Помню в московском клубе Бункер свой диалог с Чарльзом, когда он в очередной раз приехал из далекой Америки с концертами – "О чем этот альбом? Что подтолкнуло тебя к его записи?". На что он ответил – "Когда-то я жил в доме, где на первом этаже располагался магазин, в котором продавались книги в жанре sci/fi и другая фантастическая литература. Я приходил туда часто, что-то покупал, читал, и это, в свою очередь, не могло не отразиться на моем творчестве. Поэтому мой альбом
Science/Fiction
оказался буквально пропитан энергетикой этого магазина и этих книг. Однако понял я это уже после того, как вся работа оказалась выполнена."
Замечательные слова, а ведь в действительности так оно и есть – всегда чье-то творчество влияет на других творческих людей, заставляя их аккумулировать и открывать новые горизонты в настоящем искусстве. С первых же потрескиваний и хрустов трека Eclipse Of Reason слушатель начинает понимать, о чем идет речь – серьезное сосредоточенное погружение в другой мир другой реальности, sci/fi индустрия готова принять читателя-слушателя в свои объятия, наполнить его новыми представлениями о будущем и снабдить всем необходимым для путешествия по гипер-пространствам разума. Названия композиций говорят сами за себя – The Image Economy, Global Media Engine, Society Of The Spectacle, Dead Media...
-
Hymen records